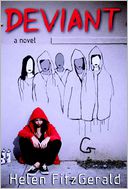 For a very long while, Abigail sat alone by the river. She read the letter once, twice- over and over. Each time she had a different reaction.
Her mother had loved her.
Her mother was a junkie, or a drunk.
Her mother made no sense.
Her mother had obviously

NEVER

loved her.
Th e-ticket her Mom left was American Airlines flight number 3846, leaving Glasgow airport at 10 p.m.
Call #: YA Fitzgerald, Helen NEW